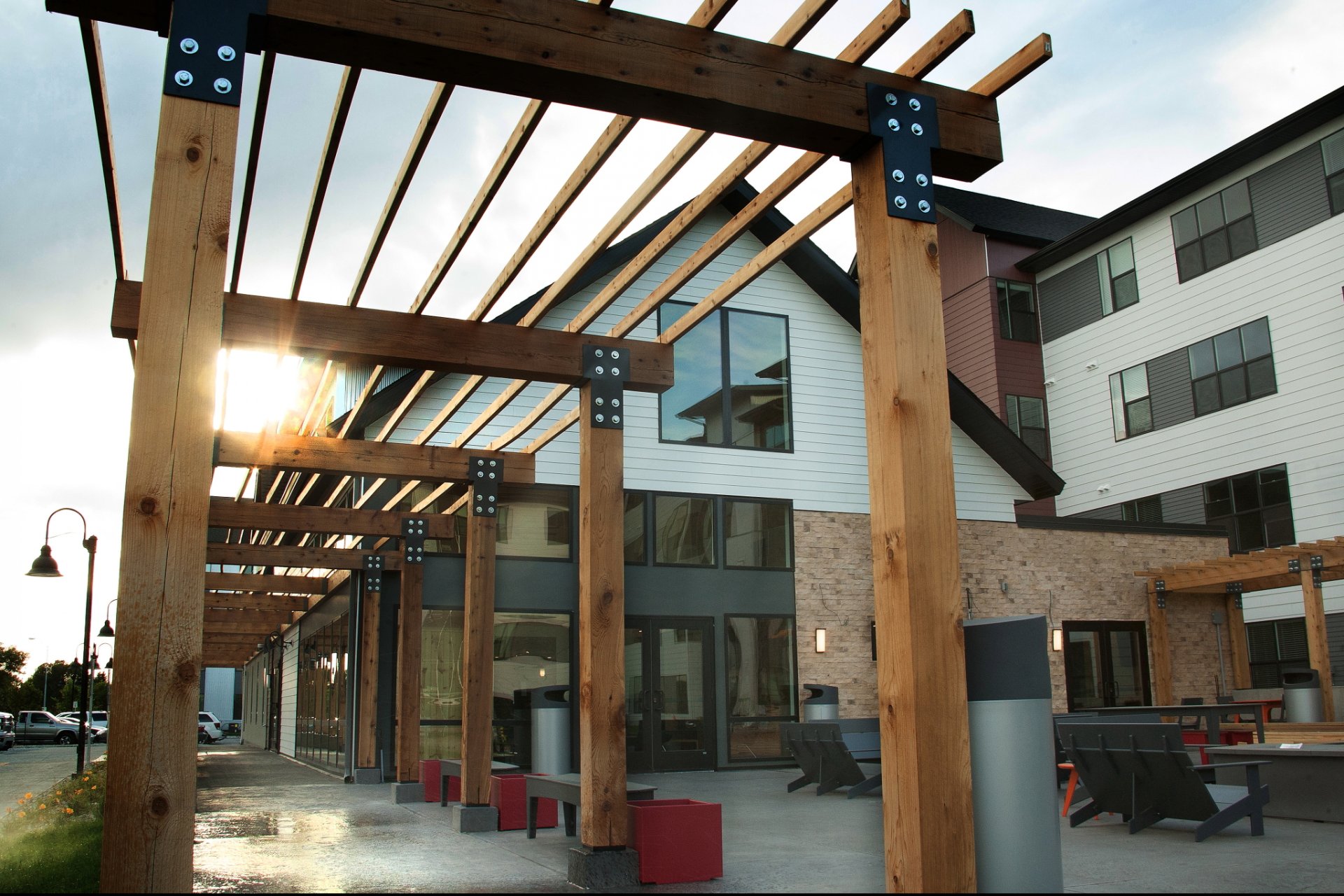 Parents
FREQUENTLY ASKED QUESTIONS BY PARENTS
Harbor Bay Real Estate Advisors, LLC and Oxford Realty have a thoughtful and unmatched commitment to the parents and students we serve. For most young adults, a productive college career can be the groundwork for lifelong achievement. We offer the very best accommodations in an environment conducive to academic achievement and personal well-being. We strive to provide an enjoyable, secure, and collaborative environment where students can meet new friends, create a sense of community and attain academic achievement. We strive to make your students experience exceptional.
Tell me about management and maintenance staff
The Boden staff from Oxford Realty is experienced and proficient in addressing all of your student's needs. The Boden is staffed with on-site professional employees. Electronic work orders submitted from students are given immediate attention.
Are the units furnished?
We have a variety of 1, 2 3, and 4 bedroom floor plans with all the amenities and modern conveniences your student requires. No need for renting a U-Haul, we provide furniture included in the rent, saving you additional money and hassle. All units are fully furnished including bed, dresser, desk, desk chair, living room couch/love seat, living room chair, end table, entertainment center and coffee table. In addition, all units include in-unit laundry and HD "Smart" TV's in living rooms and all bedrooms.
Does The Boden offer dedicated study areas for my student?
There are several independent study areas for students including dedicated study rooms on each floor and private study lounges on first floor. Each study room accommodates several students and includes HD TV's and whiteboards for group projects. The Boden also offers a computer station and printing center for special projects.
Where do we sign the lease and who signs the student's lease?
All students will work one on one with a dedicated leasing manager from Oxford Realty. At The Boden, we use individual leases (per student) and you are NOT responsible for other roommates. Parents will be required to sign Guaranty. You are responsible only for your student.
What is the lease term?
Twelve (12) months commencing August 01.
Do you have roommate matching?
We offer roommate matching for those that would like to be placed with a roommate. For students looking for a roommate, a student is asked to complete a personal profile to help us better assist in matching your child with someone compatible with their study habits, sleep pattern, interests, and hobbies.
Can my student pay rent or submit maintenance requests on-line?
As a resident at The Boden, your student will have access to The Boden Resident Portal on our website. It keeps your student connected to where they live. Your student can pay rent online, learn about upcoming events at the community, update contact information, and even submit a maintenance request. Rent is due the first of each month, and may be paid by either a check or money order to the office or online by a debit or credit card through The Boden Resident Portal. No cash accepted.
What does my student need to bring to school?
While each unit is fully furnished, you will need to bring a few things:
Bedroom:
computer/laptop, study lamp and/or bedroom lamp, hangers, mattress pillow top, pillows, bedding, laundry basket, laundry detergent, 3M non-damaging wall hangers.
Kitchen:
all dishes and utensils, hand towels, paper towels, basic cleaning supplies, placemats, dish detergent, trash bags.
Bathroom:
towels, bath mat, shower curtain, toilet paper
Common Area:
Area rug, lamp, vacuum, accent pillows, throw blanket, decorations to create your own unique space.
Technology:
The Boden is supported with state of the art high speed Wi-Fi and HD "Smart" TV's, helping your student stay connected to their coursework, friends and you.
Who pays utilities?
The student pays electric and a flat monthly utility bill back.
What does the upfront one-time $150 Community Fee cover?
The fee is paid when the lease is signed. The fee covers many items including:
Cable TV
High-speed internet
Boden special events including Football and Hockey Saturdays
"Fitness on Demand" with over 600 large screen HD workout videos
Fitness Center with cardio, free weights and kettle bells
Indoor bike storage is available to all students. Heated bike storage is also available.
Wi-Fi hotspots throughout the building
Private study rooms
Club Room including pool table, tv lounge, study carrels.
Outdoor grilling area, including two fire pits
Beach volleyball court